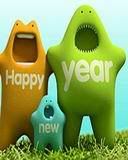 (photo credit to lintang2006 from photobucket)
Happy New Year to All!
My New Years Resolution? yun at yun din every year hahaha, but this time I want to have 1 New Years resolution na sana e matupad ko,Argh!
I will reduce my habit and addiction.

I will be slowing down.... again!
need ko ng magparehab lol.
Want to thanks all the friends here,you've been so nice to me, am going to miss you all thats for sure, will be back again kasi bukod sa rehab my appointment pa raw ako sa mental, will be back again pag pumayag ng alisin yung straight jacket ko.
(feeling ex Ms.Universe na magpapasa ng tiara jejeje)
hOPE eVERYoNE hAVE a hAPPY hAPPY and pROSPEROUS nEW yEAR!!!
www.pinaysaamerika.blogspot.com
)
(photo credit to xxelizabethieexx from photobucket)