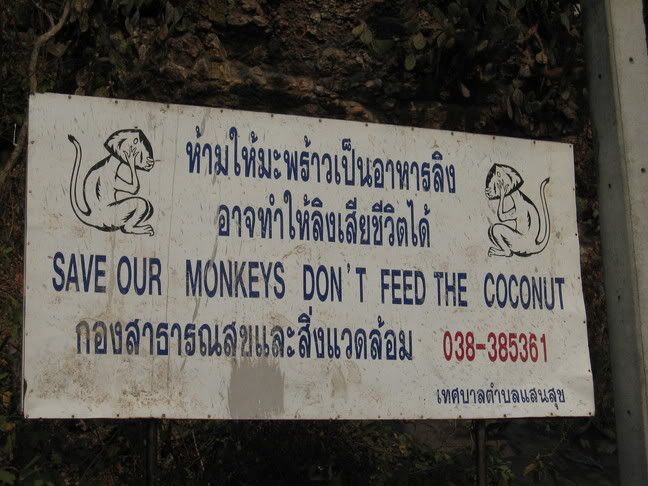 (photo credit to fodong from photobucket
, sigh, putol nanaman, sabi kasi "save our monkeys dont feed the coconut")
Another night in Bangkok (part2)
Sinabi kong part 2 kasi naipost ko na yung part 1 sa Barrio Siete (sorry po di ako marunong mag link, abnoy po ang inyong lingkod, at ayaw din po ako papasukin nung chekwang sikyo ng Barrio).
Lahat naman tayo for sure daming kwento at tyak di mauubusan lalo na kung kagaya kong lagalag at palaging tambay sa kanto habang ngumangasab ng tubo.Oki, share lang ng share...
WARNING: da ingglis of this blog is full of wrong grammar, read at your own risk, dont blame me later, just ask for bonamine after reading this)
While I was in South Asia, I met a very nice Thai lady, working at the same field, and we became friends. Once in a blue moon, we go out together during weekend (tho I like friends, Im not the kind of person who's attached and hanging around too much with friends)
For long time, she keeps on pursuading me to visit her home, and her mother wishes to meet me (langya kala yata ng nanay nya e guy ako, old maid na kasi anak nya).
We made a plan to visit her home before I go back home for holiday, then I remember my earlier experienced in Thailand before I met her. I promise to myself that this time no more katangahan at kaignorantehan acts anymore at the hotel, aba naman e dapat lista na ko this time pagbalik ko ng Thailand para naman mabawi ko yung kahihiyang inabot ko last time, at this time dapat kahit manlang 4 star hotel para my marunong naman mag inggles.
Sa kasamaang palad, the night before my flight, her mom was rushed to the hospital. I have to change my plan, tho I could not change anymore the flight sched.
Ok, to make the story short, I stayed in a hotel at aksidente natapunan ng tsaa yung bag ko na my mga damit kaya lahat nabasa (dipa rin nakaligtas sa kaangahan hmpt!)
I called the front desk…
ME

:

hellowww??? Front desk?
RECEPTION

:

yes yes, I help you pls?
ME

: (avaaaaaaah magaling mag inggles, sulit ang binayad koh, dapat fluent din ang inggles koh)

oh yes yes, I need laundry service plsss, can you send someone?
RECEPTION

:

service? massage?
ME

:

no, no, I mean laundry service…
RECEPTION

:

aaaah, yes yes now understand, wait ….
After 20 minutes…
DOOR RINGING

: ding……. dong……
ME

: (opening the door)

yes

…..?
A young guy approached the door, aba aba naka isputing, long hair, wearing sunglasses (at night?), shirt open, not wearing hotel uniform.
ME

: (ako, kunot noo at nakanganga pa rin)

yes

….?
(aba at papungay pa ng mata ang de puger habang tinatanggal ang sunglasses)
GUY

:

Are you lonely….? I make you happy tonight….
ME

: (KA-BLAG….hinimatay).
(later on, the front desk corrected me, she said, I should've said "washing" instead of "laundry"….shocking huh! my ganun klaseng service for lonely people, lol,sayang... sana pala pinatos ko na kahit di ako lonely, tsk!)
MORAL LESSON: sige kayo magbigay ng moral lesson, my shock pa rin ako till now.…